Beckenham achieved the award in January 2016. The flag was raised on 19 May by PC Russell Edwards and Chloe Ross of CCARA (centre right) outside Beckenham Junction station. Cllr Michael Tickner (third left) made the speech.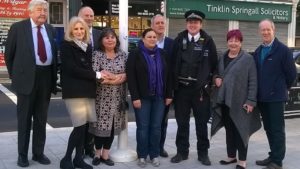 The Purple Flag is awarded by the Association of Town and City Management (ATCM). Similar to the Blue Flag for clean beaches and the Green Flag for great parks, the Purple Flag is for towns with diverse and safe evening and night-time economies.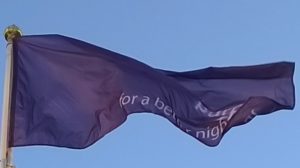 At the time, Beckenham was one of only 42 places in the country to have been awarded the flag. ATCM was most impressed by the collaboration from the two residents' associations representing local people (CCARA who chair the Town Centre Team and WRBA who provide the secretariat), and wants to use Beckenham as a case study. Usually applications are driven by the council or businesses.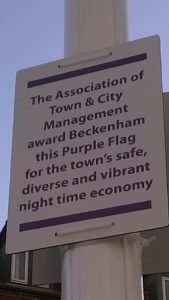 Last Christmas the number of incidents related to late night drinking fell significantly in Beckenham whilst the rest of the borough saw an increase. Purple Flag status lasts for two years and the town will need to maintain and hopefully improve standards in order to re-qualify.
Please help us to re-qualify by completing the survey on your feelings about the town centre on  https://www.surveymonkey.co.uk/r/7CN3D5J