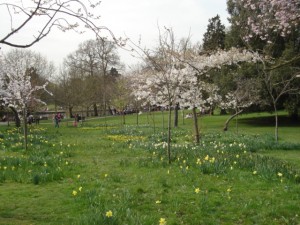 By special decree the public were allowed into the Kelsey Estate to celebrate the coronation of King George V.
In 1908 Tom William Thornton (1857 – 1933) secured most of the land against housing development (yes we had developers even then) and lobbied the local council to create a park which officially opened on 31st May 1913. Thanks to his vision we have today a park of outstanding beauty adorned by lakes, waterfalls, wildlife and other attractions cared for by experts and volunteers for the enjoyment of the public.
To commemorate his gift and great achievement a small plaque dedicated to T W Thornton can be found just inside the Court Downs Road/ Kelsey Park Road entrance gates.
The Friends of Kelsey Park will be hosting celebrations during May and June to mark this Centenary. Information about these events will be posted on notice boards in the Park and in the newly opened Information Centre which is open between 14:00 and 16:00 hours at weekends. It will be a good time to look back and remember the efforts of people behind the scenes